Whether it's our successful Tri-County Reading by Third Project or funded partners, Trident United Way is committed to improving education for all students.
Diamond Burns knew her 3rd grade daughter Za'Kari was going down the wrong road and knew she needed to find help.
Teachers and school counselors told Ms. Burns her daughter was disruptive in class, would get into fights with other classmates and was disrespectful of adults.
Thankfully the Trident United Way-funded WINGS for Kids program had an opening and Ms. Burns knew she had to enroll her daughter.
More than 1,100 kids at 10 Tri-County elementary schools participate in the WINGS afterschool program, which focuses on culture, adult social emotional skills and comprehensive curriculum.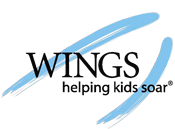 Za'Kari told her WINGS leaders she wanted to impress her friends (a group of older girls from her neighborhood) by acting out. Her WINGS Leader focused on helping Za'Kari build the self-confidence she needed to make responsible choices and resist negative peer pressure. She participated in activities designed to help her build critical skills such as roleplaying different peer pressure scenarios and getting involved with activities like chess and art to build independence.
"When Za'Kari started the year, she was tough," said Keyasia Hale, WINGS program coordinator and coach at Chicora Elementary School. "She sought the approval of friends who were older than her and altered her behavior when in their presence. Once we noticed this, I moved Za'Kari to a new group and she was able to find her confidence to be herself. Over time, her behavior became much more positive!"
Preparing kids for life involves education in and out of the classroom. Education is one of Trident United Way's three focus areas. We are working with groups to give kids the best shot at being successful beyond their school days.
The challenges are real. Trident United Way research shows around 60% of kindergartners across the Tri-County demonstrate the social development to begin school. That number drops to 34% in some higher poverty areas.
While the process wasn't easy for Za'Kari, her mother is seeing the differences.
"I feel great about it, it's the best thing for her, it's really good," said mom Diamond Burns. "I would say in a couple of months she changed tremendously. Her behavior and grades just improved."
Caring adult role models went above and beyond their duties to make sure Za'Kari understood they were there for her and loved her. The efforts went well beyond school hours.
"The team was always there for her, calling and checking on her and cheering on progress," Ms. Burns said. "I give them 10 stars. When she got to WINGS, the leaders talked with her and made her feel special from day one and it did wonders."
Research shows that strong social emotional skills are key to helping kids succeed in school, be prepared for the workforce and become positive and healthy contributors to society.
Thanks to WINGS, Za'Kari is doing much better in her classes and is more respectful to her classmates and teachers. She's also developed close friendships with several girls her age.
"I see her going to college and being successful thanks to how she has turned into such a leader." Ms.Burns said. "I'm so proud of Za'Kari and can't thank WINGS enough."