Have you signed up for the Trident United Way Newsletter? Click here to be added to our email list!
2022 Days of Caring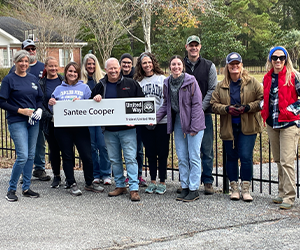 On November 16, 17, and 18, Trident United Way hosted our 22nd annual Days of Caring event supporting 78 nonprofit organizations across the Tri-County. 
For over 20 years, Trident United Way has hosted the largest community service event in the Tri-County area thanks to community members who team up to make a difference. Like last year, we expanded Day of Caring to three Days of Caring to offer volunteers more options and flexibility to deliver impact to the Tri-County community. 
For Days of Caring, Trident United Way matches nonprofit agencies and schools with volunteer teams to help complete important projects that these organizations may not have the capacity to take on internally. Volunteer teams are comprised of corporate colleagues, friends, families, or neighbors. 
This year we had 3,200 participants complete 190 projects across the Tri-County!
Research shows companies that offer employees opportunities to volunteer enjoy greater satisfaction in the workplace. Days of Caring is a catalyst for year-round volunteer engagement as these teams see the impact they can make when they build community partnerships. We are grateful to have so many local businesses invested in supporting our community. 
This year's largest volunteer teams include Blackbaud, Charleston County Government, Eliott Davis, Greystar, Ingevity, MUSC, Naval Nuclear Training Command, Santee Cooper, SC Ports Authority, Roper St. Francis, and many more. Our thanks to everyone who participated and helped make this event a success for our community.
 
GivingTuesday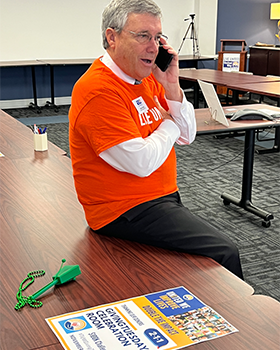 This GivingTuesday Trident United Way raised a total of $123,064! 
This GivingTuesday, Trident United Way set a goal to raise $100K in support of the 2-1-1 Helpline to bolster these essential services for our community. Trident United Way's 2-1-1 Helpline provides individuals and families access to critical resources.
Over the last year, 2-1-1 received 13,702 calls and gave a total of 24,286 referrals across the Tri-County! 
2021-2022 Impact Report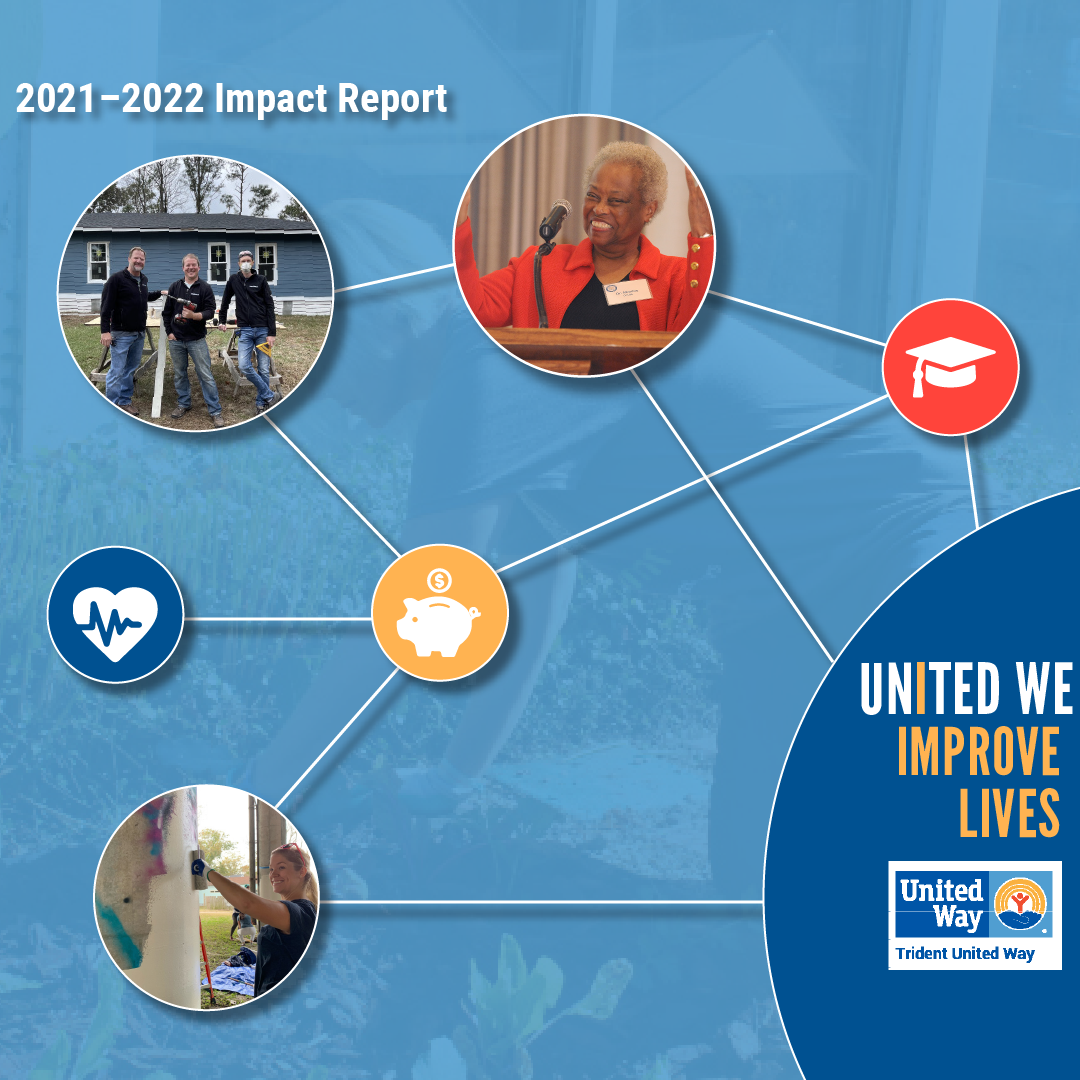 Trident United Way is proud to share the Fiscal Year 2021-2022 Impact Report.
Inside you will find details on the impact of our community's donations and volunteer hours. Some highlights include:
24,286 total referrals were issued throughout the Tri-County by the way of our 2-1-1 Helpline 
3,132 community members were provided emergency financial assistance through our Berkeley and Dorchester Resource Centers 
3,031 children's books were collected by Trident United Way's African American Leadership Council in 2022 
1,994,683 pounds of fresh fruits and vegetables were distributed across the Tri-County by seven Trident United Way partners
Recent Events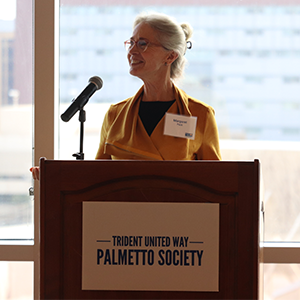 The Palmetto Society Luncheon for Impact
On December 8th, members of the Palmetto Society gathered at The Harbor Club in Downtown Charleston for the annual Luncheon for Impact (previously the Breakfast for Impact). 
Speakers included David Morrow, Trident United Way Palmetto Society Chair, Brad Davis, Trident United Way Interim President & CEO, Joey Current, Trident United Way Health Program Manager and Margaret Peck (pictured here), founder of Healthy Plate Living.
Sign-up to Volunteer!
Trident United Way will host its 6th Annual Read Across America Day in March and we need volunteers to help! Volunteers will visit classrooms at local elementary schools to read a book (or two) to students in Child Development to 3rd grade.
Reading aloud to studemts can help them develop their literacy skills! Volunteers can be as creative as they like using fun props, costumes, backdrops and more! Come help inspire a future generation of readers! For more information please email volunteer@tuw.org.