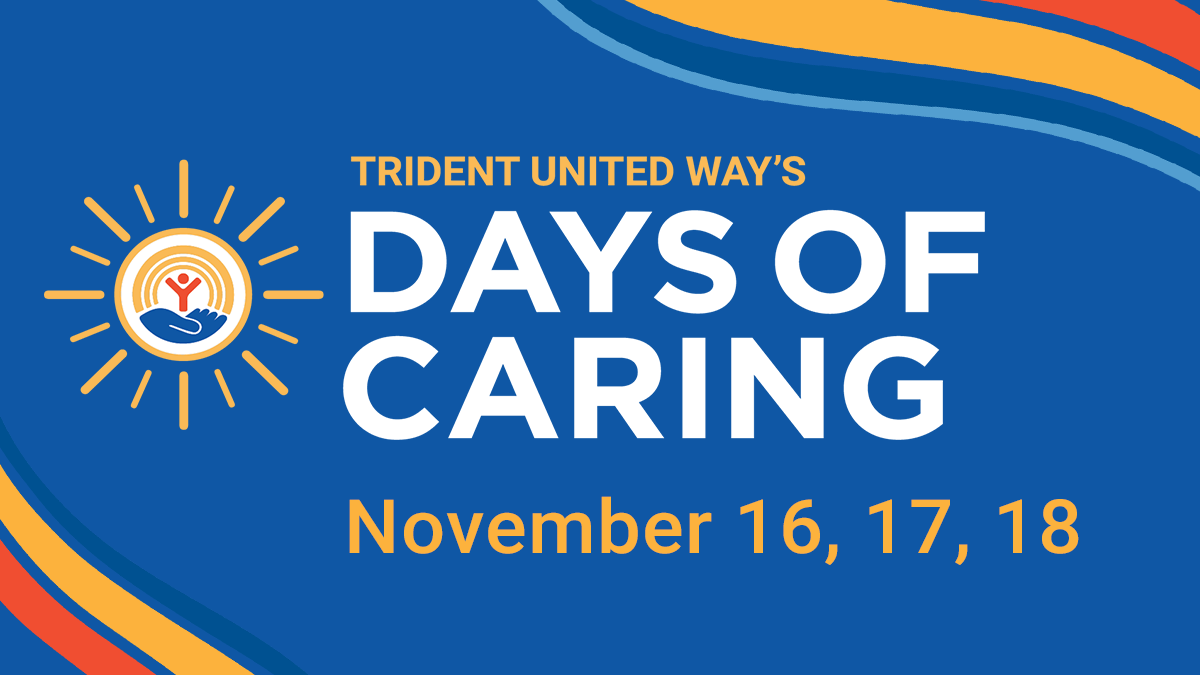 If you are interested in participating in 2022 Days of Caring please email dayofcaring@tuw.org to receive information as it becomes available!
For over 20 years, Trident United Way has hosted the largest single day of community service in the Tri-County area on Day of Caring thanks to employers, teams and neighbors coming together to make a difference. Now we are ready and excited to triple the impact from Day to Days of Caring in an effort to engage more volunteers, provide more flexibility for completing project and deliver more impact to our Tri-County!
Project registration is now open!
Nonprofits, agencies and school in the Tri-County community are encouraged to submit any projects they may need assistance with completing! Projects may be on-site, remote or virtual.
Important Dates for Trident United Way's 2022 Days of Caring
Project Registration: September 19 - October 11
Online T-Shirt Store: October 11 - October 21
Volunteer Team Registration: October 13 - November 4
Days of Caring FAQs
No! Volunteers and non-profits or schools hosting projects are able to select how many and which days they'd like to participate. Our goal is to provide participants of Days of Caring with flexibility to engage in this impactful community service event.
Once volunteers register for your project, you will receive an email notification from eVolunteer. This will prompt you to log into your account to view the volunteer's information. If the volunteer group does not fill all of your volunteer spots, your project will remain open until all spots have been filled then it will be marked as full.
If you absolutely must cancel your project, please contact any volunteer group that may have signed up as well as Trident United Way at volunteer@tuw.org or 843-740-9000 ASAP. Volunteers that participate in Days of Caring are very motivated to participate in the day and we do not want to disappoint them. By letting us know as soon as possible, we can do our best to match those volunteers with another project so they still have an opportunity to participate.
We do have some student/youth volunteer teams that participate in Days of Caring. If your project is not youth-friendly, be sure to specify the appropriate age range when submitting your project request; there are fields to complete for minimum age requirements.
We do everything we can to fill all of the Days of Caring projects, but every year there are a few projects that go unfilled. If your project has not been filled two weeks prior to the event, please contact volunteer@tuw.org. Your project is still valuable to our community and we will work with you to try and match a volunteer group to come out and complete it; however, it will likely be some time after Days of Caring.
There are many long standing Days of Caring relationships between project sites and volunteer teams, which is wonderful! We still require the agency/school to register their project with us and identify the volunteer team. We will then assist the volunteer team register for the project to ensure all teams are accounted for. For more information on pre-partnering, please contact our volunteer staff at volunteer@tuw.org.
Project Hosts: Organizations with a 501c3 nonprofit status are welcome to submit a project request to participate. Religious organizations that provide community outreach programs, such as food pantries or address education, financial stability and health impact areas, may also submit project requests that support these programs. These projects may be in-person, virtual or remote project opportunities.
Teams: Any company or group of five or more people can form volunteer teams and sign up for volunteer projects.
Days of Caring 2021
Thank you to the incredible volunteers who participated in Trident United Way's 2021 Days of Caring - we're grateful for your helping hands across the community! From November 17th-November 19th, 2,827 volunteers rolled up their sleeves to complete 173 projects in our Tri-County community, resulting in 9,790 volunteer hours valued at $110,920! This is an incredible impact in our community - YOU are making a difference!
Special Thanks to our 2021 Alliance Program Sponsors
CHAMPION:
Adams Outdoor Advertising | Anita Zucker and The InterTech Group, Inc.| Chernoff Newman | Ingevity
Johnson & Johnson | Life Cycle Engineering Inc.| MUSC Health | Nucor | Publix Super Markets, Inc.| Roper St. Francis Healthcare
Santee Cooper | The Post and Courier 
ADVOCATE:
First Citizens Bank | Humana Healthy Horizons in South Carolina | Select Health of South Carolina
South Carolina Federal Credit Union 
FRIEND:
The Bank of South Carolina