Changemaker Grants
Trident United Way Changemaker Grants mobilize resources and empower nonprofits dedicated to making a positive impact in the Tri-County community. Grants are awarded in quarterly cycles, each with a cycle-specific focus on investing in the areas of greatest impact for TUW and its partners while aligning with TUW priorities. Each quarterly cycle will award $100,000 in total grants.
2023-2024 Quarterly Grants
Q1: Capacity Building
Q2: Improving Access to Opportunity for ALICE
Q3: Communities of Color
Q4: Economic Mobility in data driven areas of need
Q1: Capacity Building
Capacity-building Funding is an investment in the effectiveness, efficacy and future sustainability of a nonprofit or agency by providing resources to improve and/or expand an organization's mission. It can enhance the strategic planning and implementation of operational and organizational structures and long-term goals. Capacity-building grants, therefore, focus not on the outward-facing work but the inner workings, means and systems of the organization. 
Capacity-building grants are critical, providing funds to:
Innovatively increase organizational effectiveness
Provide staff and volunteer development
Allow training and certification opportunities
Enhance internal systems
Improve technology and equipment
Develop strategic planning outlines and communities of best practice
Examples of requests for support include new or existing projects in areas such as skill-building opportunities for staff or board members, diversity and equity initiatives, leadership development and management training, strategic planning, succession planning and website development.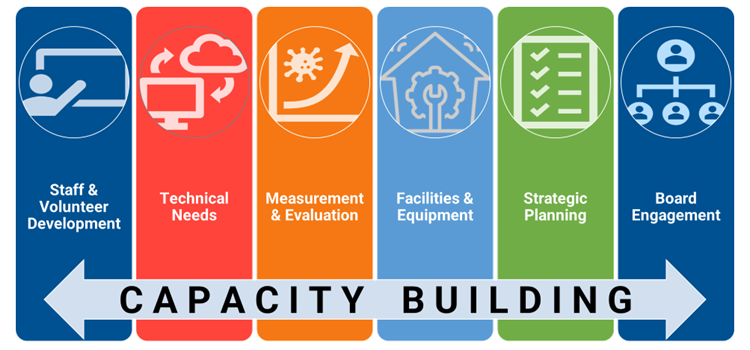 IRS 501c3 nonprofit organization
Not classified as a private foundation and does not engage in political activities as defined by the IRS
At least 50% of the agency service population is at or below 200% of the poverty level 
Primarily provides services to residents of Berkeley, Charleston and/or Dorchester Counties
Agencies provide services to clients and/or beneficiaries without regard to race, religion, color, sex, sexual orientation, age, national origin, ancestry, citizenship, veteran and/or disability service, based on client population 
Board of Directors structure with at least three non-compensated members who are also not related by blood or marriage
Align with TUW's priority areas of Education, Financial Stability, Health and Basic Needs
Does not require religious worship, instruction or proselytization to receive services
Provide the following documents with application:

Verification of Federal Nonprofit Status: 

501(c)3 IRS letter of Nonprofit Status for your organization
If organization uses a fiscal agent, submit their 501(c)3 letter
If organization is a religious organization that has not registered as a 501(c)3 with the IRS, you must certify that the organization meets the requirements for exemption under IRS section 501(c)3: www.irs.gov/Charities-&-Non-Profits/Churches-&-Religious-Organizations

Current State of South Carolina Office of Secretary of State Registration or Exemption 
Most current 990
Proposed Budget

Submit Status Report and Final Budget

Within 30 days of the expending of funds submit Status Report & Final Impact Report by September 2024
Complete online via SurveyMonkey
Reporting to include (but not limited to):

# of participants, volunteers, attendees or beneficiaries
Details on accomplishment of increased capacity or benefit to organization
Other measures or data points described in application
Photos, success story and any plans for follow up or next steps with engagement (if applicable)
 
Eligibility Checklist and documentation validation by TUW staff
The Changemaker Grant Review Council, consisting of community volunteers, has experience and understanding of Trident United Way mission, investment strategy and grant process will review the applications, score, rank and discuss the applications recommendations on funding allocations
A rubric will be used for scoring applications based on 

Completeness & Clarity of application
Alignment with TUW's focus areas of Education, Financial Stability, Health and Basic Needs
Feasibility of the described activity or project
Impact of the described activity or project on the organization
A final decision making meeting will be held with all review council members providing feedback and input on funding awards
 
Volunteer to serve on the Changemaker Grants Review Council
Trident United Way is seeking individuals who are interested in serving on the Changemaker Grants Review Council. The main function of this review council is to help review applications and recommend funding for the grants, and to ensure the funding provided helps achieve the greatest impact/need. TUW is honored to enlist, engage and train community volunteers to review grant applications and inform funding recommendations on behalf of the community we all call home.
Please contact Katherine with any questions at ktorbush@tuw.org.
Timeline
Changemaker Grant Information Sessions
A representative from any nonprofit organization or agency interested in applying for a Changemaker Grant must attend one session. In person attendance is recommended for all.
In-person information sessions with be held at the Trident United Way offices at 6296 Rivers Avenue in North Charleston.
August 21, 8:30-10:00am
August 22, 2:00-3:30pm
August 23, 3:00-4:00pm This virtual option is only available to applicants who attended an Info Session in January 2023.
Changemaker Grant Application Open
August 23
Changemaker Grant Application Deadline
September 11
Application Review & Decision Making
September 15 - October 9
Grant Notifications
October 12
Questions? Please email funding@tuw.org.