Trident United Way honors our AmeriCorps members during AmeriCorps week, March 7 to 13.
These special people take a year pledge to join AmeriCorps to serve our community. Trident United Way helps coordinate the program in our region and deploys the members at agencies throughout our area. AmeriCorps members serve at local sites where they work with families across the financial stability spectrum of need. By acting as Family Navigators, they seek to address the current economic hardships and provide financial education by leveraging the unique strengths of the Trident United Way system and its community partners to make a difference in the lives of people.
In 2020, the team took part in helping build a house for Habitat for Humanity in Dorchester County. Click here to see the story by Live 5 News.
Whether it's building a house or building up lives, AmeriCorps is making a difference. The story below is from Kendra Wilson, an AmeriCorps alum who is now giving back to the community in her special way.
My AmeriCorps Experience
In 2017, I had been a finance manager for eight years for a lending company and the unexpected happened, the company closed several branches, including mine. While trying to acquire the right new job, I depleted my savings and had the same hardships that the clients I approved unsecured loans for faced.
During my hardship I was referred to the Trident United Way Resource Connection Center by 211. An AmeriCorps member provided me with wrap around service. She provided resources that allowed me to update my resume and make it more competitive. She vetted me and determined my qualifications for services in which I received assistance for bills that were past due. The AmeriCorps member offered me service and hope, which was essential during a time that I so desperately needed it.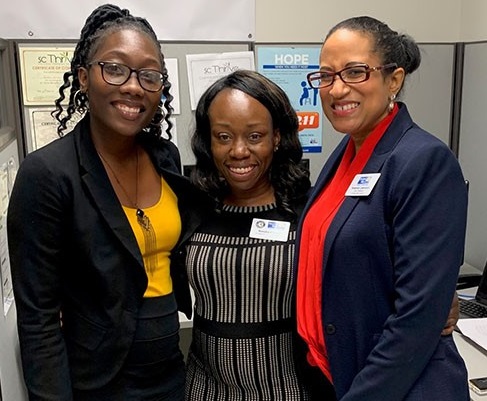 I've always had that same desire to help people during hardships, but this program was different. It wasn't predatory and designed to further debt. It educated people on the fundamentals of financial literacy and how to overcome and prevent hardships. The temporary financial assistance from partners is essential for people going through similar hardships.
Once I became a member, I've been able to change so many lives including my own. The program gave me so many opportunities to network and enhance my personal and professional development.
As an AmeriCorps member I was a Family Navigator. From that, I acquired employment with One80 place as a Housing Navigator where I helped the homeless population. The knowledge that I gained allowed me to help acquire people their own housing from their own resources.
After almost three years at One80 Place I was inspired to serve victims of domestic violence. I am now the Victim's Advocate at My Sister's House and I love it. The work I do with community clients is so rewarding. I help provide them with financial literacy, food banks, trainings and tools to help them life a meaningful life.
AmeriCorps made this possible for me. There are so many people that need help. I am so proud to be an alum knowing I was provided the tools necessary to make a difference!
Pictured: Kendra Wilson (middle) with AmeriCorps program manager Angie Williams (left) and Amanda Lawrence (right), Trident United Way VP of Community Impact.