Trident United Way Gives $25,000 toward Hurricane Harvey Relief 
Last updated 9-01-17 9:30 AM
Residents of Berkeley, Charleston and Dorchester counties are watching the events surrounding Hurricane Harvey devastating large parts of Texas and Louisiana with a painful familiarity. Hit with back-to-back natural disasters in the form of a historic flood in September 2015 and Hurricane Matthew in September 2016, the Charleston area aches for the victims of Hurricane Harvey. We know what it is like to wade through hip-deep water and return to damaged homes and felled trees.
Thankfully, we didn't have to go through it alone as neighbors from surrounding states and communities came to our aid. Trident United Way now has an opportunity to pay it forward and help those whose lives have been profoundly affected this past week in what United Way of Greater Houston CEO Anna Babin called "a disaster of epic proportions."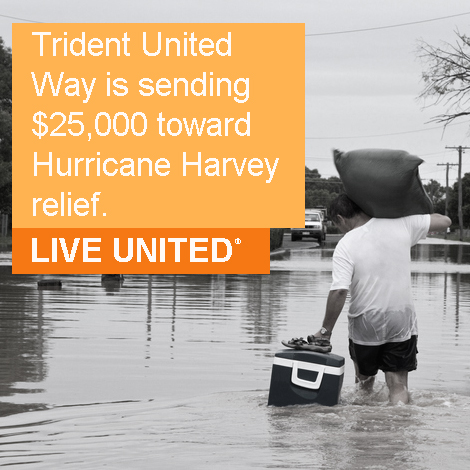 Trident United Way President & CEO Chris Kerrigan shared the news on Thursday that the organization will make a $25,000 gift, comprised of contributions from an anonymous individual donor and funds from TUW's Emergency Reserve Fund, to the United Way Relief Fund of the United Way of Greater Houston. One hundred percent of the contribution will support those affected by the devastation in the Houston area.
Trident United Way is sending funds rather than physical goods in accordance with best practices from the U.S. Trust Bank of America Private Wealth Management, an idea that has been popularized in recent articles by CBS, NPR and a host of other national media outlets.
"One of the things that is hard for people to understand is that it typically takes a week or two after a disaster is over before people can begin to know what they really need, particularly long term," Trident United Way Director of Integrated Community Systems Cathy Easley said.
Easley has coordinated relief efforts for Trident United Way for more than 20 years and notes that while food and clothing are staples that are needed immediately, money to larger organizations that already have workers in the affected area and can coordinate larger shipments is preferable to individuals driving trucks to affected areas or holding their own fundraisers. Storage of donated items that are not planned for and housing individuals who drive to affected areas can be problematic and take attention away from rescue efforts.
Clothing is an example of well-intentioned gifts that can create more work than relief and, as a result, aren't always utilized.
"You never want to donate used clothes in a disaster because there is no place to store them or people to sort them and distribute them," Easley adds.
Easley gives an example of a local distributor who donated a semi-truck full of new shirts separated by sizes after Hurricane Matthew, which made it easy to quickly distribute to affected people. Other stories have reported large piles of donated clothing that need to be sorted and cleaned taking up runways so planes delivering aid couldn't land or eventually needing to be burned because they've sat outside in the elements too long and turned toxic.
South Carolina 2-1-1 has compiled a list of organizations taking donations, which can be found on Trident United Way's website at www.tuw.org/hurricaneharvey along with other helpful information on how to best assist in times of natural disaster.
Trident United stands UNITED with the people of Texas and Louisiana who have been affected by Hurricane Harvey and we appreciate your efforts to LIVE UNITED too. To live better, we must ALL Live United.
An open letter to the community from Chris Kerrigan, Trident United Way, President and CEO:

August 31, 2017
We write today to let you know of a $25,000 gift Trident United Way (TUW), which serves Berkeley Charleston and Dorchester counties, will make on behalf of our community to support Hurricane Harvey recovery efforts. We invite you to share the letter below with colleagues, employees, friends and family so they may understand how this community's long-standing support of TUW is being harnessed to help with this crisis.
Here in the Tri-County area, we know all too well the devastating impact hurricanes and severe flooding can have on a region and its residents. Trident United Way (TUW) thanks you for walking alongside us through so many of those experiences. We also know how keenly aware you are of the everyday "personal disasters" and emergencies so many of our neighbors face here in the Tri-County. We thank you for being a part of addressing them day in and day out. 
In recognition of our community's long-term support, TUW will make a $25,000 gift, comprised of contributions from an anonymous individual donor and funds from TUW's Emergency Reserve Fund, to the United Way Relief Fund of the United Way of Greater Houston. The total contribution (100%) will support those affected by the devastation in the Houston area. Our action to draw from our Emergency Reserve Fund give was unanimously supported by TUW's Board of Directors Executive Committee.
We are honored to make this gift on behalf you and our community which share our compassion for the victims of this devastating natural disaster. 
We will stay active on TUW social media channels monitoring inquiries from concerned community members and providing links to information on how they can assist our friends in Houston. Oftentimes, communities are overwhelmed by the wrong kinds of assistance in the wake of disaster. We will work hard to help our local community understand what Houston needs most. For your continued education, we've included links below to guide your personal and philanthropic response.
THANK YOU FOR LIVING UNITED.
Please feel free to reach out to me by phone or email should you have any questions or insights to share.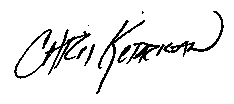 Christopher F. Kerrigan
President and CEO, Trident United Way
---
Links to guide your personal and philanthropic response
South Carolina 2-1-1                                     Consolidated lists of resources and information for Hurricane Harvey Relief
Report from US Trust                                    Philanthropy in a time of disaster- Preparing, responding, recovering
8-30-17 CBS Sunday Morning segment ​    When Disaster Relief Brings Anything But Relief
8-28-17 New York Times article                          Moments of Hope and Inspiration Rise Above the Chaos of Harvey