North Charleston, SC—Over 100 members of Trident United Way's Women United and their guests gathered this week at the Crown Plaza hotel to honor three local leaders in philanthropy at the 2023 Women United Awards Luncheon. This annual event celebrates the Nonprofit Leader of the Year, the Hands-On Hero of the Year and the Role Model of the Year, who were all nominated by members of the community.
"As members of Women United, we support the work of Trident United Way, and we also come together to support one another," said Trident United Way Board Chair Wendy Kopp. "The fellowship, mentorship and camaraderie formed within this group is remarkable. To that end, it's essential to not only support each other in doing the work; we need to empower and magnify the voices of the women in our community who are out front leading the charge, those doing the difficult and often unseen work behind the scenes and those who are organizing community support systems in our local nonprofits."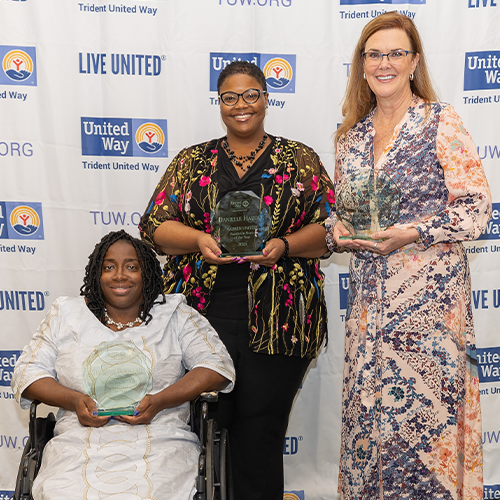 The 2023 Nonprofit Leader of the Year is Stephanie M. Kelley of East Cooper Community Outreach (ECCO). 
During Stephanie Kelley's tenure as executive director, ECCO has increased its funding by three times, which has allowed them to serve an ever-expanding number of people in need. ECCO has been named Nonprofit of the Year east of the Cooper several years in a row. In 2022 ECCO was awarded the Chick-fil-A True Inspiration Award and received a grant of $175,000 making them the only nonprofit in SC nominated for this award. ECCO's partnership with Trident United Way has furthered the mission of both organizations. Stephanie works with Trident United Way to coordinate Days of Caring efforts, providing volunteers with opportunities to give back to the community in a meaningful way.
The 2023 Hands-On Hero of the Year is Danielle Hardee-Richardson of We Are Sharing Hope SC. 
Danielle Hardee-Richardson's leadership, motivation, positivity and dedication to service is evident at We Are Sharing Hope SC where she embraces volunteerism by involving her workplace in service efforts including Trident United Way's Days of Caring, Young Leaders United School Supply Drive, the African American Leadership Council's Virtual Reading Project and the Random Acts of Kindness Drive. Her work with Trident United Way has included being on the steering committee of the African American Leadership Council, serving on the Program Investment Review Council in and Community Engagement Review Council. 
The 2023 Role Model of the Year is community leader, advocate and educator, Theresa Prioleau.
Through her organization, Communities Helping to Encourage Change in Kids (CHECK), Theresa Prioleau has sponsored dozens of events to benefit the eight rural communities served by Cross High & Cross Elementary Schools. These events have provided numerous joint-community youth fairs, after-school tutorials and leadership programs. Theresa has also sponsored 25 annual Kids' Day events for the students and their families in the rural communities of Cross, Eadytown, Pineville, St. Stephens, Pringletown, Ridgeville, Eutawville, and Holly Hill, SC. Kids' Day is the largest and most long-standing joint-community annual event in our area averaging 100 sponsors and 300 participants. In addition, Theresa has sponsored three annual A "Special" Kids' Day events for individuals with special needs and their families. With nearly 30 years of teaching at Cross Elementary and Cross High Schools, she is well known and respected by her current and former students, their families and throughout the community as a whole. She was twice named Teacher of the Year.
"Trident United Way partners with hundreds of nonprofit organizations across the Tri-County," said Trident United Way President & CEO DJ Hampton. "With so much impactful work happening in our community, it's important for us to take a moment to acknowledge those organizations, and to celebrate the individuals who work tirelessly to support our community each and every day. Stephanie, Danielle and Theresa are incredible philanthropists who have contributed so much to the Tri-County. We are thrilled to honor their work."
At the awards luncheon, a moving keynote speech was delivered by entrepreneur Monique Wilsondebriano of Charleston Gourmet Burger Company, who amplified the message of the far-reaching impacts of community service. She shared stories of hard times in her life, and how organizations like Trident United Way offered support. Ultimately, she went on to build multiple successful businesses. Recently, she was featured on the cover of Black Enterprise Magazine and has appeared on QVC, The FOOD Network, The Today Show, Good Morning America, Disney+ and Amazon's 'This is Small Business' podcast.
Trident United Way Women United is an engaged network of philanthropic leaders committed to improving education, financial stability and health in our region through their giving, advocacy and volunteerism in our community. To learn more, visit www.tuw.org/WomenUnited.
***
About Trident United Way - Celebrating more than 77 years of service, Trident United Way is a catalyst for measurable community transformation in education, financial stability and health. In 2021 The Chronicle of Philanthropy once again voted United Way as America's favorite charity