Estimated 900 elementary school students learn from volunteer readers
NORTH CHARLESTON, SC – Trident United Way's 5th Annual Read Across America Day made a difference for students across the Tri-County. More than 40 volunteers read to an estimated 900 elementary school students during the fifth-annual event.
Volunteers visited classrooms at eight local elementary schools to read books to students in Child Development to 3rd grade. Reading aloud to students can help them develop literacy skills.
Unlike last year's virtual event, this year, volunteers could visit classrooms in person or virtually. Some volunteers got creative, using fun props, costumes, backdrops and more!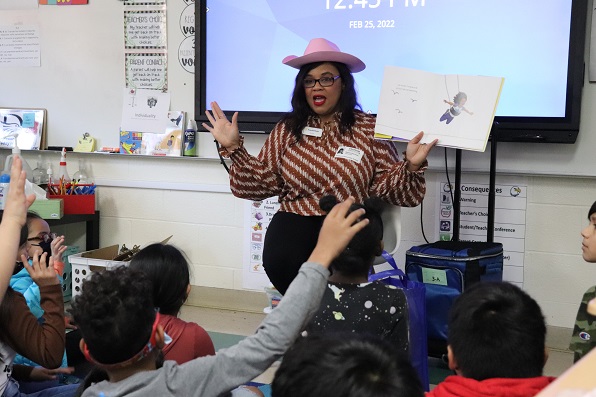 Pictured: Volunteer Sonia Hanson reading and adding a hat to compliment the book!
Education is one of three focus areas at Trident United Way. Data shows that early learning is vital to overall childhood learning.
During birth to 5 age range, 90% of a child's brain development occurs. 

57% of Tri-County children are deemed "not ready" when starting Kindergarten

More than half of Tri-County third graders are not reading at grade level.
Click the link below for video:
https://www.dropbox.com/s/9xeusesxhdcyt09/ReadAcrossAmericaDay.mp4?dl=0