The African American Leadership Council (AALC) Member Celebration highlights award winners and the seven years of impact through book drive
NORTH CHARLESTON, SC – At a recent event,  people from across the Tri-County got together to celebrate two special community leaders who are making a difference by honoring them as Trident United Way's 2022 African American Leadership Council (AALC) award winners. Back from a two-year in person absence due to the pandemic; the event included music and dancing to honor the award winners and the seventh year of the Trident United Way donor network in the community.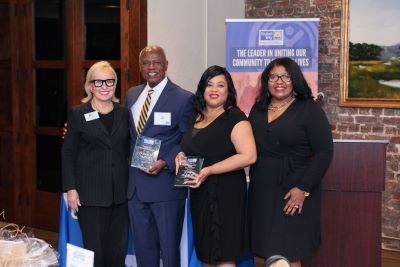 Stephanie Pope Singleton, Project Manager at The Movement, and the African American Leadership Council Steering Committee chair, hosted the event.
Raphael James, Anchor at WCSC Live 5 News served as the Master of Ceremonies for the program and reflected on the impact of community leaders. 
"What really makes the Charleston area attractive is the work that you are doing – the quality of life that you are creating with your time, your donations and your passions to make this area better, " James said. "I applaud you."
Two awards were presented by Singleton, Monifa Ellington, AALC Vice Chair and Chloe Knight Tonney, President and CEO of Trident United Way. 
Don Smith of Hendrick Automotive Group was awarded the AALC Community Leadership Award and Sonia Hanson of SouthState Bank received the AALC Philanthropist of the Year Award.
Adding to the excitement, the donor network was recognized for their efforts in leading the charge across the community to collect and distribute more than 10,000 books during the 7 years through their Annual Book Drive. Students in grades Child Development (CD) through third grade at three area Title I schools will receive the curated bag of books. The deliveries will enable students and families to build their home library and encourage summer reading and foster a culture of ongoing learning.
"Everything that we do at Trident United Way is powered by our volunteer leaders," said Chloe Knight Tonney, Trident United Way President and CEO. "We appreciate your depth of care for this community."
African American Leadership Council is a network of engaged African American and minority leaders who seek to harness their power and philanthropy to create bold community change. We leverage resources to advance education, financial stability and health throughout the Tri-County region. Members make an annual gift of $1,000 or more to Trident United Way.
High Resolution Photos from the event are available for download at this link: https://www.dropbox.com/scl/fo/vua78vjzw4yvnvzjmj3oj/h?dl=0&rlkey=rdo3ok3sv8b4f2ife8l76k72l 
###
About Trident United Way - Celebrating more than 77 years of service, Trident United Way is a catalyst for measurable community transformation in education, financial stability and health. According to the Chronicle of Philanthropy, United Way is America's favorite charity.