Forever United event highlights 77+ year impact of Trident United Way, its supporters, partners and volunteers
NORTH CHARLESTON, SC – Trident United Way is honoring its past while looking to the future by naming four Life Directors for significant contributions to our community.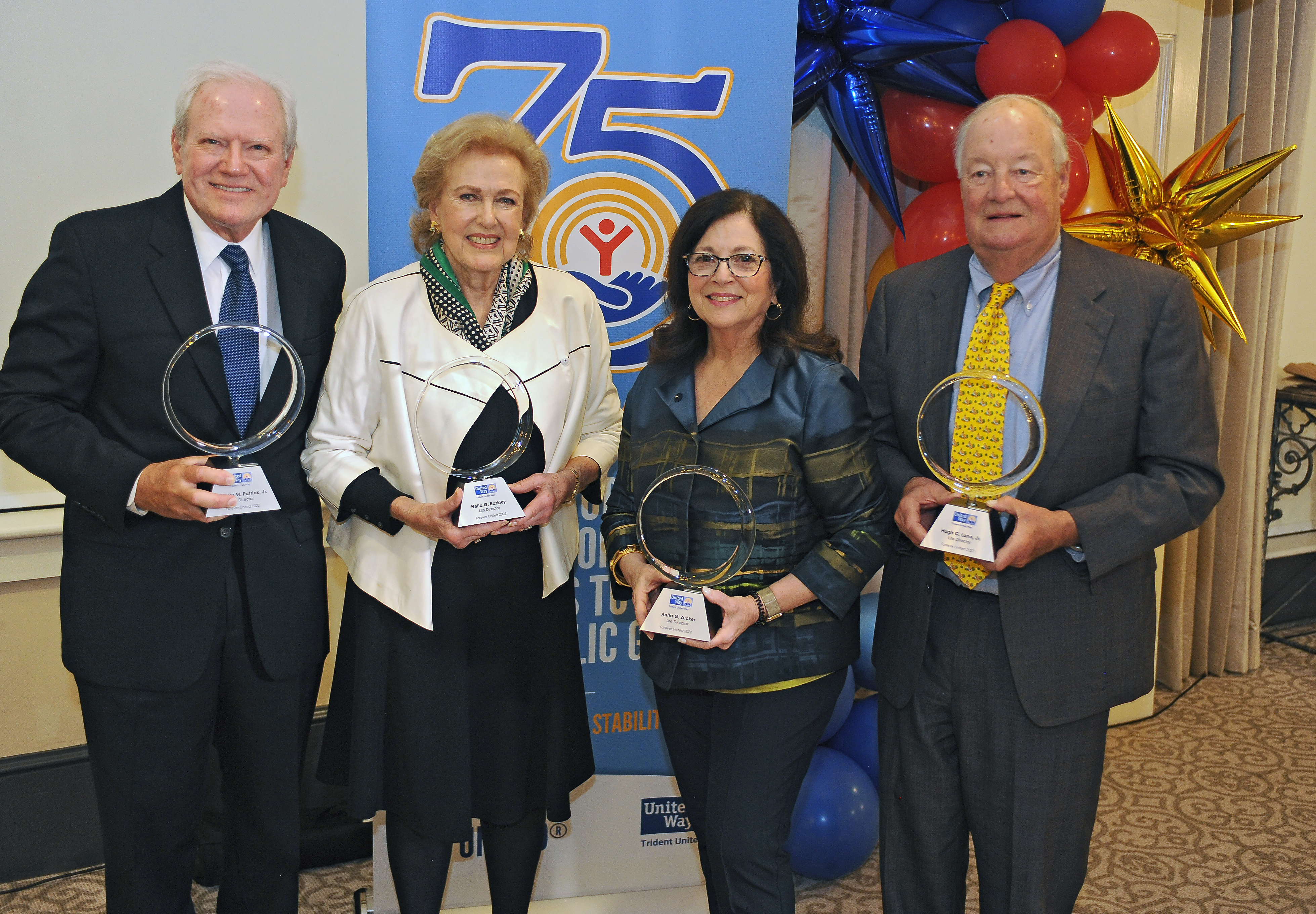 At Trident United Way's 77th anniversary luncheon, Nella Barkley, Hugh Lane, Jr., Charles Patrick, Jr. and Anita Zucker were honored as inaugural Life Directors of the organization. The four Life Directors bring more than 100 years of combined service to our community across many sectors in the region. Each has held numerous leadership positions at Trident United Way, along with many other local causes.
"We honor those who have carried forward with zeal, the work of Trident United Way — an American experiment in philanthropy that worked — and is still working today," said Chloe Knight Tonney, Trident United Way President & CEO. "Nella, Hugh, Charles and Anita have answered the highest calling to serve others – and in doing so, have changed the lives of generations of our neighbors."
All four received praises for tireless citizen-leadership through gifts of time and philanthropy to Trident United Way, along with other important causes across the Tri-County region.
Former Charleston Mayor, The Honorable Joseph P. Riley, Jr. and South Carolina Ports Authority COO Barbara Melvin served as keynote speakers. 
"As we look to the future and see that our community's needs evolve over time, it is paramount that our region's companies, organizations and leaders remain committed to meeting those needs. We must all use our resources, talents and time for the greater good," said Barbara Melvin, South Carolina Ports Authority, COO. "We look forward to what the future holds, and we remain committed to working together to create a lasting legacy for South Carolina."
Adding to the excitement, South Carolina Governor Henry McMaster declared March 16 as Trident United Way Day across the state. The Governor proclaimed, "Trident United Way has distinguished itself for 77 years by lifting people from poverty, enlightening young minds and protecting and promoting the health of South Carolinians in the Tri-County in wartime, peacetime and public emergencies."
High Resolution Photos from the event are available for download at this link: https://www.dropbox.com/sh/j9k2xkysn2e849c/AABAUvcm4acyiDxRE_R_MDzPa?dl=0
About Trident United Way - Celebrating more than 77 years of service, Trident United Way is a catalyst for measurable community transformation in education, financial stability and health. According to the Chronicle of Philanthropy, United Way is America's favorite charity.