Event is part of Trident United Way's 21st annual Days of Caring
NORTH CHARLESTON, SC – Students at Dubose Middle School in Summerville had quite the hands-on learning experience today during an event called Rolling into Careers.
Big equipment and the folks behind them took center stage.
Public safety representatives from Charleston and Dorchester Counties, Summerville,  Awendaw, along with Miller Motte Technical College brought all the big toys to show students.
EMS, search and rescue, K-9 and SWAT units and Charleston County's Unified Mobile Command…they were all there.
Students learned about the equipment and people who keep us safe. It is also a chance to give students ideas of different careers they can pursue in the future so they can serve their communities.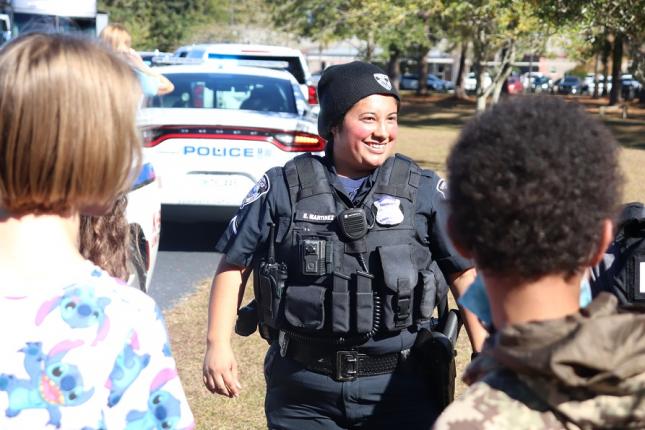 CLICK BELOW for downloadable video and soundbite from Stephanie Hanson/Dubose Middle School guidance counselor
https://www.dropbox.com/s/7at3ltbpou912fx/RollingIntoCareers.mp4?dl=0
Stephanie: "At least a few hours for students to being able to get back to being kids and see the lights and sirens and just bringing the school and community together to impact our students."
The event was part of Trident United Way's 21st annual Days of Caring. Events continue tomorrow and Friday with volunteer activities across the Tri-County. 
Since 2000, Tens of thousands of corporate and individual volunteers have come together to work on thousands of projects across the Tri-County. From painting homes to planting flowers and cleaning, the event aims to rally support to help people and organizations who could use some extra hands.
2021 Days of Caring by the numbers:
173 projects

84 agencies/schools

More than 3,000 volunteers and participants (agency, staff, etc.)
###
About Trident United Way - Celebrating more than 77 years of service, Trident United Way is a catalyst for measurable community transformation in education, financial stability and health. According to the Chronicle of Philanthropy, United Way is America's favorite charity. Learn more at tuw.org.