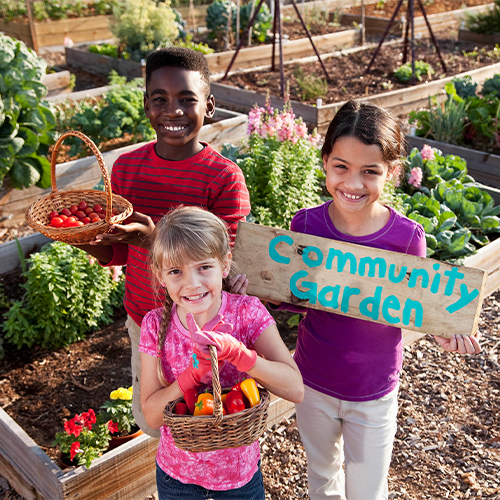 Trident United Way is working to increase access to fresh fruits and vegetables in community spaces to improve food security and provide education on organic and sustainable agriculture practices, particularly within underserved and low-income areas. 
In partnership with Clemson Extension and the USDA, Trident United Way is providing three community groups with technical assistance, infrastructure and supplies to support the development of community gardens in the Tri-County area.  
Each Community Garden site will be provided with necessary supplies, including materials to build garden beds

A Community Garden team will help plan, execute and sustain each garden

Clemson Extension will provide technical gardening assistance including workshops, training and overall gardening support
Selected Community Garden Groups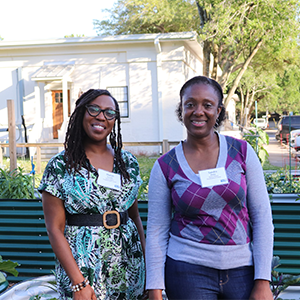 Grace Impact Development Center
Berkeley County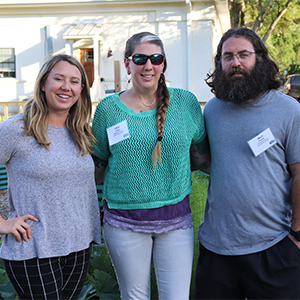 Whipper Barony Neighborhood
Charleston County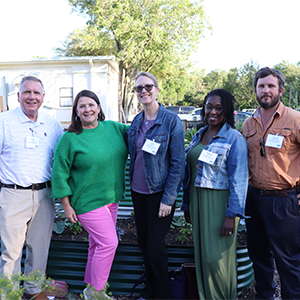 The Dorchester County Career and Technology School
Dorchester County 
Community Garden Advisory Team
Trident United Way is proud to provide each community garden site additional support through a partnership between six nonprofit organizations in the Tri-County with expertise in gardening, community gatherings and food distribution.
Improving Health and Reducing Food Insecurity Through Community Gardens
According to Feeding America, 515,350 South Carolinians are facing hunger, and of them, 141,110 are children. That means in SC, 1 in 8 children are food insecure. One major cause of food insecurity is the lack of access to fresh fruits and vegetables, particularly in rural or more remote areas where grocery stores can be many miles away.
The American Journal of Public Health reports that community gardeners consumed fruits and vegetables 5.7 times per day, compared with home gardeners (4.6 times per day) and nongardeners (3.9 times per day). 56% of community gardeners met national recommendations to consume fruits and vegetables at least 5 times per day, compared with 37% of home gardeners and 25% of nongardeners. Community gardens make them a unique intervention that can narrow the divide between people and the places where food is grown and increase local opportunities to eat better. 
Community Garden Initiative Frequently Asked Questions
Trident United Way will begin purchasing garden materials and supplies for the selected sites after April 1, 2023. Gardens must be built by October 1, 2023.
Community Garden sites will recieve two years of support from Trident United Way, ending March 31, 2025.
A potential Community Garden site must meet the following requirements:
Must be located in a food insecure area that cannot support or does not have access to supermarkets or convenience stores to acquire fresh fruits and vegetables. 
Must have space for five garden beds, each approximately 4x4 feet, with space to move around between them.
Must have space for resting or gathering.
Must have space for storage, including a shed and tools.
Must have a water source nearby.
Must receive at least 6-8 hours of sunlight each day.
Note: churches and schools are eligible Community Garden sites.
Other things to consider: is the site walker/biker friendly? Does the site have parking nearby? Is the site near the organization that will be maintaining the garden? Could the garden be grown at this site long-term?
Harvesting of the produce will be dependent on the garden locations. However, the distribution of the produce will be determined after a planning period and after consultation with the USDA. Please note, produce harvested from a Community Garden site may not be sold for profit. Produce must be given to local community members for free.
Trident United Way will provide the following gardening materials and supplies: 
Raised beds with seats
Soil
Vegetables and fruit transplants
Fruit trees
Heavy metal and nutrient testing
Vegetable and fruit seeds
Fertilizer
Shovels
Hoes
Rakes
Garden gloves
Compost bins
Wheelbarrows
Rain barrels
Large bed gardening irrigation kit
Totes with latching lids
Shed
Bulletin board 
Project signs
Trident United Way will also provide a stipend of $5,000/year (for two years) to each Garden Site Coordinator, as well as ongoing support from the Clemson Extension and the Community Garden Team.
The Garden Site Coordinator will serve as the primary contact and leader at their Community Garden site.  They will be a "Community Garden Champion", and manage volunteer support, garden usage, and sustainability.
This will be a two year committment.
Clemson Extension will provide technical assistance to the Community Garden sites, including workshops, training, and year-round garden support. Topics covered may include organic and sustainable agricultural practices, integrated pest management, soil health, and food safety.
The Community Garden Team will consist of Community Garden site staff, members of the community, and other community groups and individuals associated with gardening. They will assist with planning and promotion and serve as a community voice for the Community Garden initiative. There is a lot of experience and wisdom in the Tri-County gardening community and Trident United Way wants to lean on that as a resource for the three selected Community Garden sites.
For additional information on the Community Gardens Initiative contact Joey Current at jcurrent@tuw.org or (843) 207-4684.