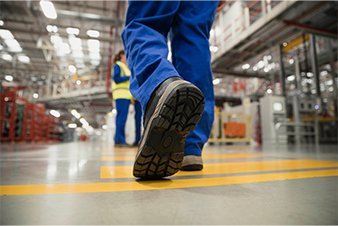 In an economy where there are many jobs available, it can be difficult to understand why some people in our community may remain unemployed. In fact, unless you have experienced poverty or homelessness, the idea of a "barrier to employment" may not have ever crossed your mind. These barriers can include anything that could make employment difficult or even impossible, such as lack of adequate housing, clothing, food, transportation, childcare, uniforms, steel-toe boots or other equipment required to perform certain occupations.
Trident United Way's Resource Connection Centers see community members experiencing barriers to employment on a regular basis and are able to utilize our Barriers to Employment Fund to help these neighbors obtain and sustain employment, which can be transformational not only for the person starting a new job, but for their entire family for years to come. 
 
Recently, a client at the Dorchester Resource Connection Center needed to purchase a pair of work pants required for their new job. They would not have the funds for the pants until receiving their first paycheck, but could not begin the job without them. 
Through Trident United Way's Barriers to Employment Fund, our case manager was able to purchase and send a week's worth of pants and a pair of non-slip shoes to the client's home. 
While the investment was relatively small in terms of funding, it enabled the client to begin work knowing they had all the materials they needed to show up prepared and succeed in their new position. "This was truly a godsend," they said when they called to thank the case manager.