It is a tremendous privilege to partner with these caring institutions. In this time of pandemic uncertainties, many companies continued their generosity and expressed their deep care for the people of our community. Each group demonstrated outstanding generosity through employee contributions, corporate gifts and volunteer engagement during the 2020-2021 Trident United Way Campaign. List based on campaign reports totaling $2,500 or more as of June 30, 2021.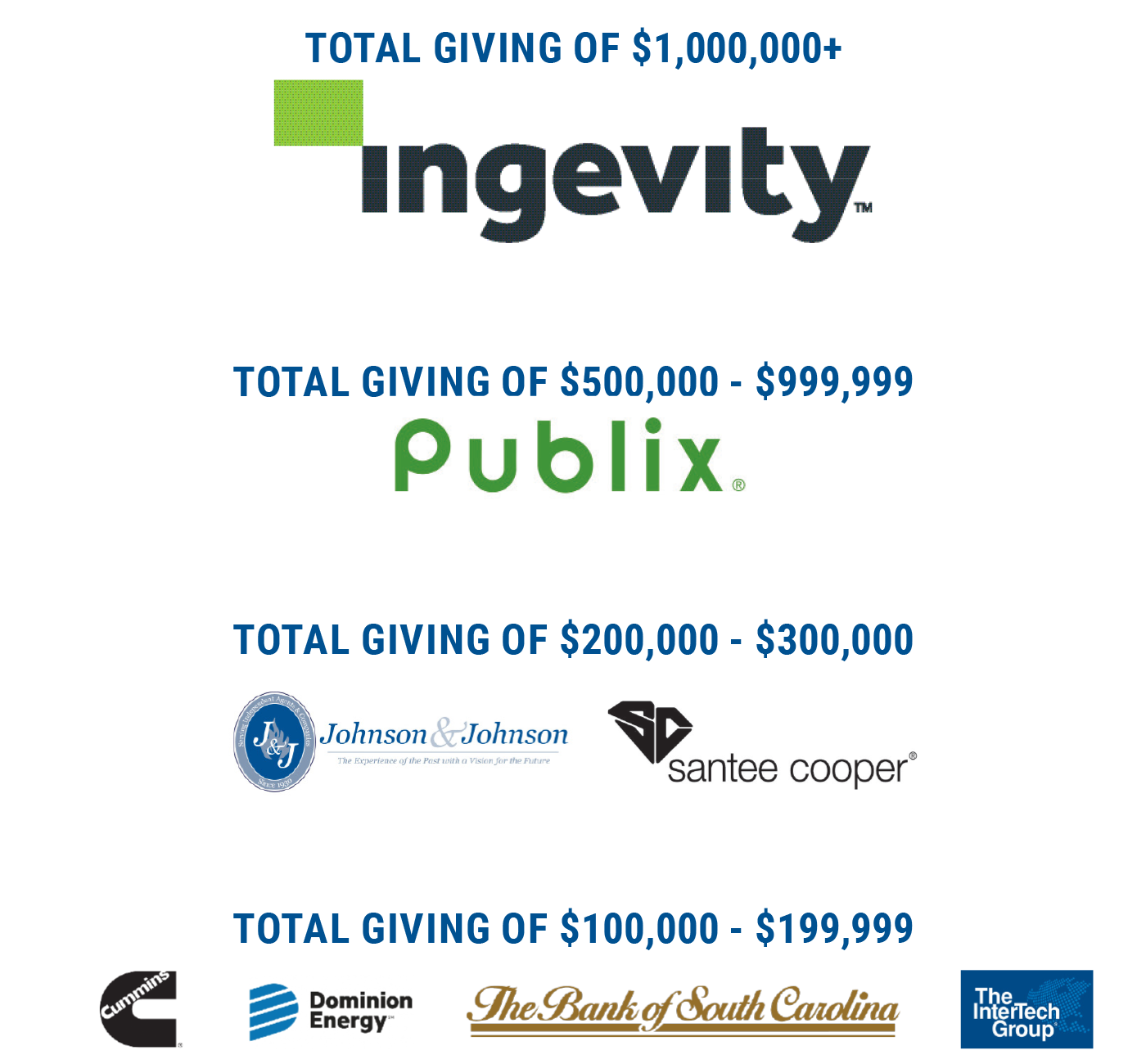 Total giving of $50,000 - $99,999
AstenJohnson
Charleston Water System
Fluor Corporation
Medical University of South Carolina
Nucor Company
Roper St. Francis Healthcare
SouthState Bank
Total giving of $25,000 - $49,999
Berkeley County School District
Berkeley Electric Cooperative
Charleston County Government
Elliott Davis LLC
Harris Teeter
Johnson Controls Foundation
Life Cycle Engineering, Inc.
LS3P Associates, LTD.
Robert Bosch LLC
Rogers, Patrick, Westbrook & Brickman
Select Health of South Carolina
Showa Denko Carbon, Inc.
South Carolina Ports Authority
The GEL Group, Inc.
Trident United Way Staff
Truist Bank
United Parcel Service
Wells Fargo
Total giving of $10,000 - $24,999
ADC Engineering Specialists
Bank of America
Banks Construction Company
Blue Cross Blue Shield of South Carolina
C&S Retail Services
Charleston Area Convention and Visitors Bureau
City of Charleston
City of Goose Creek
College of Charleston
Croghan's Jewel Box
Detyens Shipyards, Inc.
Dixon Hughes Goodman LLP
Eli Lilly and Company
Enterprise Holdings
FineMark National Bank & Trust
Home Telecom
Jones Ford
Lanxess
Pinnacle Financial Partners
The Beach Company
The Post and Courier
Trident Technical College
United Bank
WCSC-TV 5
Total giving of $5,000 - $9,999
Advanced Technology International
AT&T
Clement Rivers, LLP
COSTCO Wholesale
doxy.me, LLC.
First National Bank
FedEx
Housing Authority of the City of Charleston
iHeartMedia
Nelson Mullins Riley & Scarborough, LLP
PNC Foundation
Trident Health System
United Community Bank
Wal-Mart
Total giving of $2,500 - $4,000
Boeing South Carolina
BRPH Architects Engineers
Charleston Southern University
Colliers International
Comcast Cablevision
First Citizens Bank
Floyd Brace Company, Inc.
JW Aluminum
PM Logistics Services, LLC
Raymond James & Associates, Inc.
RTI International
South Carolina Federal Credit Union
Synovus
TD Bank
Target
Trident Construction
UPS Foundation
120 additional companies/institutions contributing $1- $2,000
We have carefully produced this report. Please forgive any errors or omissions and notify us of the same.